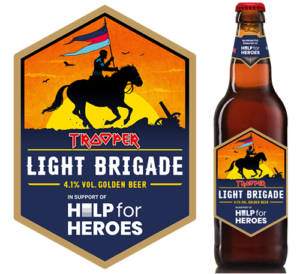 Iron Maiden, the heavy metal band that made Trooper beer a few years ago with Robinsons Brewery, recently put out a new one called Light Brigade.
Being a die-hard Maiden fan and just having seen them in concert (paying $13.75 for Trooper beers at the show), I saw Light Brigade on the shelf and grabbed it, promising myself to try one, paying $5.99 for a single pint of beer (unlike the Trooper beer, which comes in a 4-pack for $9.99).
But the high price tag for this beer is to benefit Help For Heroes. So who are these 'Heroes'? According to Iron Maiden, it's a British charity that helps "thousands of servicemen and women who live with complex wounds and injuries – both physical and mental – and are looking to regain their purpose in life." I'll trust Iron Maiden that the money goes to them as I'm drinking this beer. Now, for the review:
This one is extremely smooth, flavourful and has a nice earthy smell. I like is just as much as Trooper, which I also reviewed. It's only 4.1% alc. so it's easy to drink more of them. Now only if they were sold in multi-packs for a more reasonable price, I'd be grabbing this more often. Anyway, I'll give it 4 stars as a beer but I can't say I'm determined to pay extra money for the proceeds to go to charity, when I could just donate to that charity.
One Maiden beer I missed was Robinson's Trooper 666 but haven't been able to find it. Visit www.ironmaidenbeer.com and discover the latest news updates.